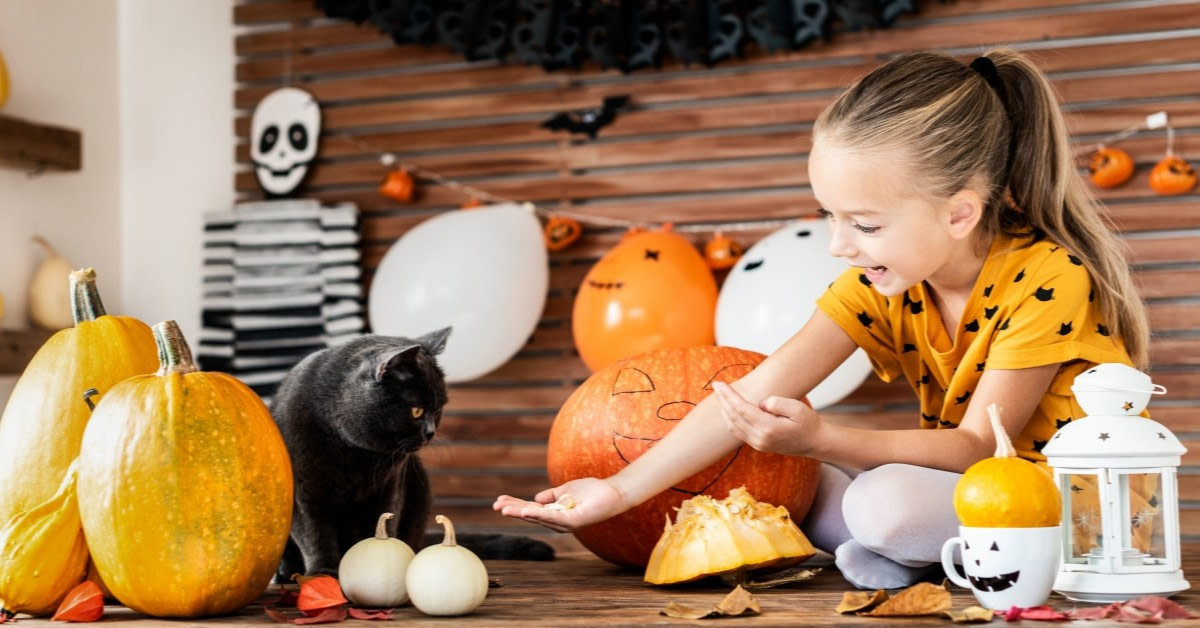 Fall is right around the corner, and with fall comes some of our favorite holidays, the first of which is Halloween. Halloween has definitely taken on a life of its own, rising to become the second-biggest commercial holiday after Christmas of course. In 2019, spending for Halloween reached almost $9 billion with millions of American attending Halloween parties and celebrations of some sort. Thus, we at Daniels Design & Remodeling thought we'd celebrate Halloween with a blog dedicated to helping you cook up the best treats in your remodeled kitchen.
Daniels Design & Remodeling offers up the best design-build remodeling services in Northern Virginia. From bathroom and kitchen remodeling to outdoor living space, enclosed patios, and aging-in-place design, our home renovation company can help you have the home of your dreams. We offer an easy three-step process that gives you many options for your home remodel. Below, we'll take a look at the best Halloween treats to cook in your remodeled kitchen. Contact our kitchen renovation company to get started today!
BEST HALLOWEEN TREATS TO COOK IN YOUR NORTHERN VIRGINIA REMODELED KITCHEN

Halloween Layer Cake
You may have gotten a new oven in your kitchen remodel, which means you can't wait to use it. One of the best treats for Halloween is a layer cake. These cakes are easy to make and can look quite scary (if nothing else, pretty cool!). All you need is two types of cake mixes, orange colored icing that you either make yourself with food coloring or buy from the store, ghost peeps, Milano and Oreo cookies, sprinkles, and candy eyeballs, pumpkins and corn. You make the cake, layering how you wish and then go to town on the decorations. The Milano cookies will be the tombstones, and you place the candy eyeballs, pumpkins, and corn all around. The ghosts of course star in your graveyard, and you decorate with sprinkles as you see fit. The result is a very tasty Halloween layer cake that you can enjoy in your new kitchen remodel with family and friends.

Halloween Cookies
Another great treat for your Halloween party or just for the season is Halloween sugar cookies. One of the best things about sugar cookie dough (besides their taste) is that you can easily make them into all kinds of shapes, from ghosts and goblins to pumpkins and witches. In your new Northern Virginia kitchen remodel, you now have plenty of space to roll out the dough and create shapes, which is the best part besides eating them. One trick is to refrigerate your dough before you bake it. This will help it to keep its edges; otherwise, it could expand so much that your beautiful pumpkin looks like a blob. While you are waiting on the sugar cookies to chill, you can wipe off your new kitchen countertops and clear the space for decorating. You can use any color and kind of icing. Many people love to add in outlines, eyes, and more. You can be as creative as you like, and since the occasion is Halloween, almost anything goes. This includes using different flavors, such as pumpkin or mint, to create a seasonal, festive taste and flair. After all, perhaps your ghost is dressing for the holiday, too. Bake when ready, and enjoy!

Halloween Brownies
If you are looking for a quick, delicious Halloween treat, pumpkin patch brownies are perhaps as simple as it gets. For this delectable delight to cook up in your new kitchen remodel, all you need is your favorite brownie mix, chocolate frosting, Oreo cookies, candy pumpkins, and some green icing. You will bake your brownies as normal, letting them cool thoroughly when done. When they are done, you can make your own green icing to make vines from chocolate chips, vegetable oil, and green food coloring, or purchase from the store. Once your newly remodeled kitchen is prepared for decorating, you get to work. You sprinkle on chocolate frosting, add in crushed Oreo cookies for the dirt, and then make vines with your green icing. From there, you place the candy pumpkins where you want, and you have yourself one delicious pumpkin patch to enjoy. Outside of cookies, brownies are some of the best treats to serve at Halloween because most people like them, and they are easy to grab and eat. Show your spirit with these goodies.

Halloween Trail Mix
At parties, the most popular foods are the kind you can just grab and eat with no mess, which is why trail mixes are always a hit. Plus, in your new kitchen remodel, you may still be trying to get familiar with where everything is at, and you may not want to mess up your kitchen just yet. Trail mixes are great for little mess as well. Ingredients here can vary, but Daniels Design & Remodeling recommends kettle corn, pretzels, candy corn, M&M's (Halloween mix), sprinkles, and chocolate chips to melt. You'll want to lay out your kettle corn and pretzels on a parchment-lined baking sheet. Melt the chocolate chips and pour into a snipped Ziploc bag. Then squeeze out the melted chocolate to make a drizzle, and don't be shy. You want a lot of chocolate to hold all of your ingredients together. Put your candy corn, M&M's, and white chocolate on top. Add in sprinkles, and freeze or refrigerate until firm. Then break into pieces and serve. You have very little cleanup and only needed your stovetop in your new kitchen remodel. These are great snacks for on-the-go running errands, going on a weekend hike or trip, and after school treats. Try them today.

Peanut Butter & Pretzels
Many people love peanut butter, but just be sure to tell your guests who may have peanut allergies what is in these delectable monster delights. To make peanut butter Frankensteins, you will need square pretzels, your favorite jar of peanut butter, and chocolate chips. Daniels Design & Remodeling also recommends green food coloring for Halloween, fun, candy eyes, straight pretzels, and sprinkles. This is a great Halloween treat to make in your new kitchen remodel in Northern Virginia since you have access to everything you need. You'll create a peanut butter sandwich out of two square pretzels. Then you'll dip this mouth-watering combination in your melted chocolate that you may have colored with the green food coloring, but any color will do. While this is still soft, add the sprinkles for hair and two candy eyes. You can draw in the mouth with chocolate or use the sprinkles for a crooked smile. Then, you'll break the straight pretzels up into bits and use those for Frankenstein's ears. Chill in the fridge, remove, and enjoy!
CHOOSE DANIELS DESIGN & REMODELING FOR YOUR KITCHEN RENOVATION TODAY
Halloween is a great fall holiday that is fun and a great way to celebrate your year before Thanksgiving and Christmas roll around. There are so many cool characters that have been created over the centuries that you can bake and create almost any treat for the occasion. It's fun to make cool treats that make your guests smile and marvel. As you visit in your newly remodeled kitchen, you can smile and pretend how you slaved over these monstrous creations when your new kitchen remodel made it easy.
Daniels Design & Remodeling loves Halloween, and we love to bring you renovated kitchens you can enjoy the season in. The kitchen holds a special place in your home as it's the place where family and friends gather for celebrations and activities. When friends come over for coffee and a Halloween treat, you sit in the kitchen and catch up on life. When the holidays come, you share a big meal and enjoy the blessings of the year. When you have a family meeting, it's often the kitchen where these conversations take place and when your kids do homework, the kitchen table is the preferred spot. After all, you now have a superb kitchen remodel to make it cozy, comfortable, and inviting.
Daniels Design & Remodeling in Northern Virginia offers an easy three-step process to home renovations and remodeling, including kitchen remodels. First, we'll conduct a feasibility study where we will visit your home, take measurements, and get the logistics of your space down. Next, we will draw up three designs of your kitchen for you to choose from. Here is your chance to offer input and make changes. Once your decision has been made, we'll get to work bringing your new kitchen to life. This is where the magic happens as you watch your kitchen transform before your eyes. We'll begin gathering all of the needed materials, drawing any permits required, and then finalize the kitchen remodeling sequence. We'll go over the remodeling schedule with you to ensure there are no conflicts and that provisions are made for pets.
However, this is just the beginning. We'll have weekly meetings with the project manager to discuss any questions or concerns you may have, the progress of your kitchen remodel, and the next phase, as well as make any other decisions. We'll ensure the inspections are performed and that everything is up to code. Once we near completion, we'll schedule a final walk through with you in order to ensure everything is as you want it. We offer a two-year warranty on your kitchen remodel. Our aim is to ensure you are 100% satisfied with your home remodeling project. If not, let us know, and we'll get it fixed.
Daniels Design & Remodeling in Fairfax uses the highest-quality materials with superb craftsmanship and considerable care. Call our home renovation company to get started today!