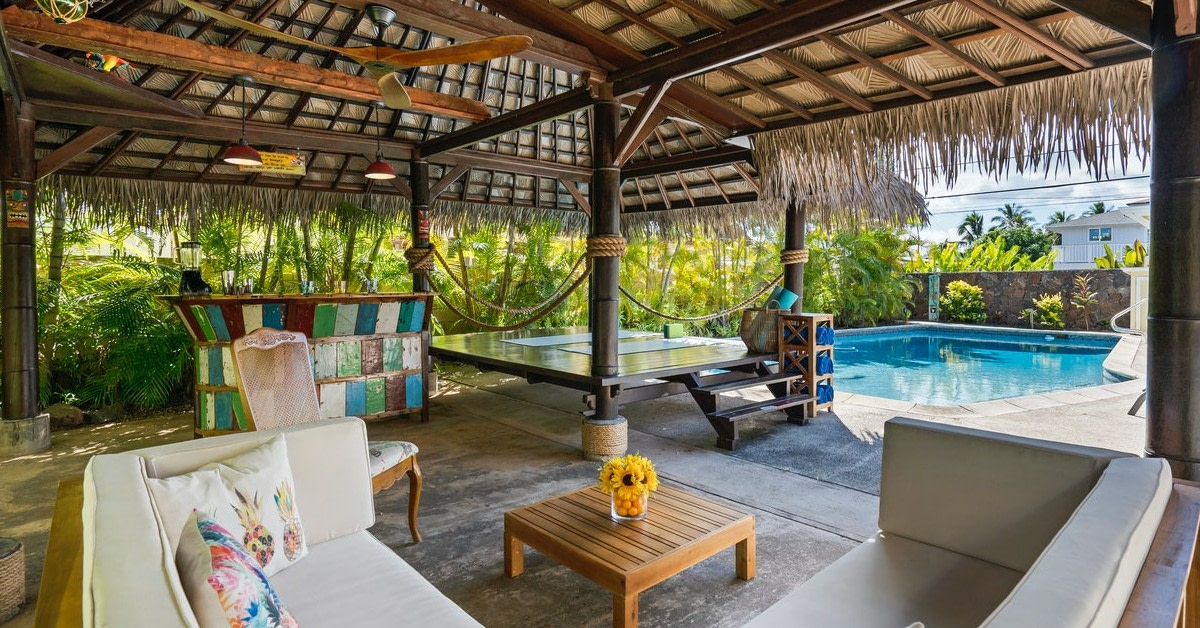 Having a nice outdoor patio or porch, whether enclosed or not, is like having your own mini-oasis to come home to. You can beat the heat on a cool summer evening, sitting outside and watching the stars come out, or you can soak in the sun on one of the few last nice days of fall. You can have a BBQ party for your co-workers, or a birthday party for your son or daughter. There are so many activities that you can explore with a comfortable patio design or porch design.
Daniels Design & Remodeling in Fairfax offers the best home remodeling services, including home additions, kitchen renovations, bathroom remodels, and living space repurposing. We also specialize in outdoor spaces, such as patio and porch design. We've been helping make people's dreams of having the perfect space a reality since 1997. Below, we'll go over some of the benefits of outdoor spaces. Contact us today to get started!
BENEFITS OF OUTDOOR SPACES

Increases Your Living Space
Creating a comfortable outdoor living space instantly expands your home and your living space without a more expensive home addition. Nowadays, outdoor living spaces are much more than just a patio table and a couple of chairs. They are full-blown areas of your home that blend seamlessly together to the point that you don't even realize that you've encompassed part of your yard, part of the outside world, and ultimately, part of nature. Many homeowners artfully blend the decor so their outdoor patio space is part of their home. Daniels Design & Remodeling notes that by installing sliding glass walls, you not only can see the world outside unimpeded, but you can bring the outside world in.
Can Improve Your Health
Being outdoors has numerous health benefits, such as reducing your stress and aiding in memory. Plus, breathing in fresh air that is tainted with the smell of pine in the winter, of honeysuckle in the summer, or lavender in the fall, is good for your body's cells as well since it can be less tainted than stale indoor air. Nature lowers your blood pressure and makes you less depressed. After all, the sight of many of nature's creatures, such as deer in the forest, a squirrel in the park, a rabbit under the bush, or birds in the trees, connect us to our roots of outdoor living. Nature boosts our mental energy, reduces fatigue, and can reduce inflammation. Nature can help us to focus more, be more creative, and boost our immune system. The outdoors can chase away seasonal affective disorder and provide you with your daily dose of vitamin D. Plus, the outdoors can make you a better person, allowing you to remember what is important in this world, such as being with others.
Gives You a Reason To Stay Home
Most of us spend a good portion of our days working, running kids around, or doing for others. When we come home after a long day at work, we often just want to do something for ourselves, unwind, and otherwise vegetate. Having an inviting outdoor space, such as a superb patio or porch design by Daniels Design & Remodeling in Fairfax, makes coming home and relaxing easy.
There are so many options these days for your outdoor space, including having a firepit to while away the night hours, having a pool to go for a refreshing dip after work, having a hot tub to chase away your aches and pains, or having a sunroom where you can warm yourself like your cat. You can have a comfortable chair to read in, a table to put your feet up as you indulge in a glass of wine, or you can have some beautiful flower beds to soak in the colors of nature. You can have a pond full of goldfish, or a lighted walkway that leads to your own secret garden. You can create your mini-oasis exactly as you envision with no reason to leave.
Gives You a Reason to Cook
Outdoor kitchens are becoming more popular these days. An outdoor kitchen is basically your backyard grill, but taken to the next level, complete with a sink, refrigerator, and sometimes a dishwasher. You have countertops with which to put food on and to prepare your meals, and you may even have an ice machine. Using your outdoor space to create an outdoor kitchen can give you a reason to cook again.
Daniels Design & Remodeling in Fairfax believes the sky is truly the limit with regards to outdoor kitchens. From pizza ovens to an outdoor kitchen island complete with shelving, your outdoor kitchen could potentially rival your indoor kitchen. If you love to entertain, then having your own dedicated outdoor kitchen could make your home the favorite amongst your friends. You throw in a kegerator and some TVs, and your home will most definitely be nominated as the home for sports game gatherings.
Improves Your Quality of Life
When you combine the health benefits of your outdoor living space with the additional amenities you've added, such as a pool, you've improved your overall quality of life. You eat better because you cook more, which improves your physical health. You take more breaks from work to soak in the sun, which improves your mental health. You can even do yoga in your outdoor space, which not only keeps you cooler, but also improves your spiritual health. All of this can de-stress you, which improves your emotional health as well.
Daniels Design & Remodeling in Fairfax reminds you that life is short. You should maximize your moments since you don't know how many moments you have left in this world. Striving to be a better person through taking care of yourself not only helps you, but it helps those around you, including society at large.
Increases Your Home's Value
Any home renovation will increase your home's value, including your outdoor living space renovation. Potential home buyers love to see these spaces, and a beautiful outdoor living space can set your home apart from others'. From pergolas and patio design to arbors, flowers, pathways, and more, your outdoor space will shine and add aesthetic appeal. In fact, many potential home buyers are increasingly putting a premium on outdoor living spaces for all of the reasons mentioned above. They see how they can improve their overall quality of life, and if they can move into a home that already has all of the work done for them, it's just an added bonus.
CHOOSE DANIELS DESIGN & REMODELING IN FAIRFAX TODAY
Daniels Design & Remodeling in Fairfax is a home remodeling company that specializes in home additions, bathroom remodels, kitchen remodels, and living space remodels, including patio and porch designs. Our remodeling company has been helping homeowners bring their dreams to life since 1997. Our home renovation process is simple. We show you what is possible with our feasibility study. Then we present you with three designs that we believe would be great for your home. Finally, we build your project, creating a new space for you to love.
While there are many steps within each of these, our home remodeling process ensures that you are 100% satisfied with your home renovation project. We involve you every step of the way, from selecting the materials of your kitchen cabinets to choosing your floor plan. We keep you updated with weekly progress meetings to ensure everything is being done to your specifications, and you are always welcome to ask questions throughout the entire home remodeling process. We handle all of the details of your home addition or outdoor living space remodel, such as preparing the permits with the city and/or county as well as with your neighborhood. In essence, once the porch, patio, or kitchen design is to your liking, we'll handle all of the dirty work. All you have to do is enjoy the final outcome.
Daniels Design & Remodeling only uses the highest-quality materials installed with superb craftsmanship to make your home remodel what you've always wanted. We back our work with a 100% satisfaction guarantee and offer a two-year warranty on your home renovation project. Even after the project is complete, you are more than welcome to call us with questions or concerns. We stand by our work to ensure your home remodeling project, outdoor living space, or home addition is perfect. Contact us today to get started!