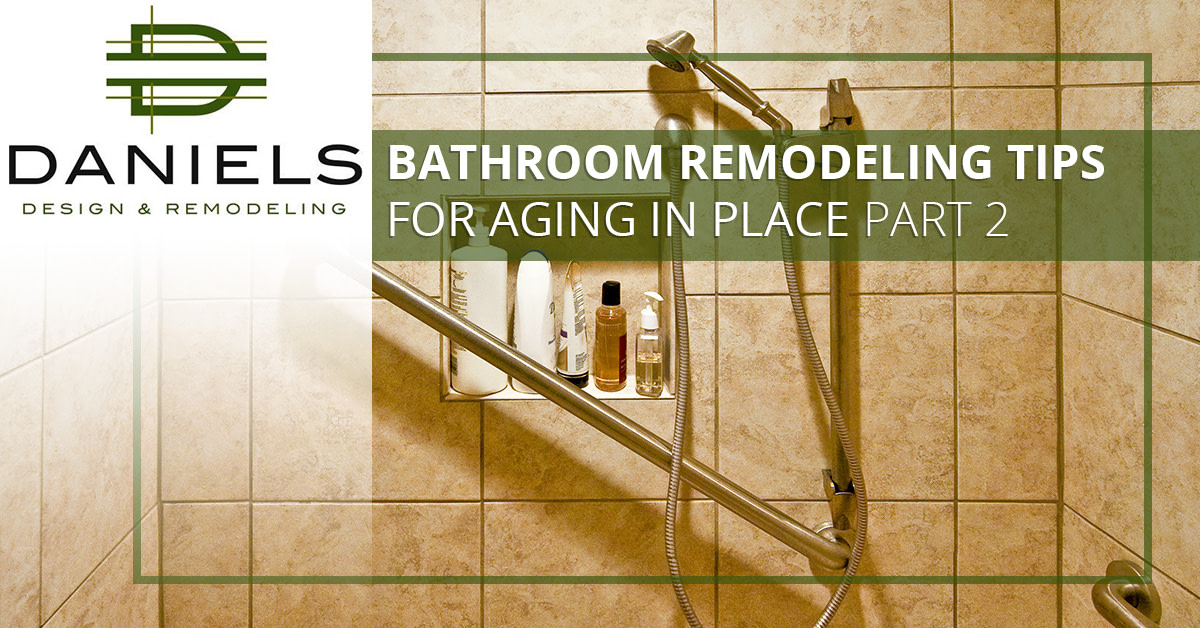 Are you interested in staying in your home as you age?
From retirement communities to assisted livings, there are a number of options for aging Americans, but more and more people are opting to age in place at home. No matter where you live, your safety should be your number one priority, and there are lots of upgrades you can make to your bathroom to make it accommodate your changing needs as you age. In our last blog, our bathroom remodeling experts in Northern Virginia touched on a couple of things you can do to make your bathroom safer for aging in place. Here are a few more.
#3. Give yourself a little extra room.
You may not need a cane, a walker or a wheelchair now, but if you do in the future, you're going to need a little extra room in the bathroom to maneuver around. Make sure that the entryway is a minimum of 32 inches wide, and that there is enough space to place a wheelchair right next to the toilet, tub or shower for safe transfers.

#4. Install grab bars.
You should never ever use a towel rack as a grab bar, as they were not meant to support a person's weight. A great alternative is to install actual grab bars in your bathroom. These should be placed next to the shower, bath, toilet and sink to give you that extra support that you need.
#5. Upgrade to non-slip flooring.
Slippery floors are one of the biggest reasons people fall in the bathroom so frequently, but this is easily fixed by replacing your existing flooring with non-slip flooring. Some people try to cut corners by simply throwing a couple of rugs down, but you should know that rugs present their own trip and fall hazards so you're better off with a non-slip floor.
#6. Ensure there is ample lighting.
Poor balance is one common reason why older people fall so often, but the loss of vision that many older people experience certainly doesn't help matters. When you can't see very well, having adequate lighting becomes paramount to helping you avoid tripping over things. So when designing your bathroom for aging in place, make sure that the lighting is ample and has minimal glare.
#7. Make any necessary height adjustments.
When you're in the bathroom, it's important that you are both safe and comfortable. For older people, making minor adjustments to the height of the sink and toilet can make a big difference in terms of comfort. However, keep in mind that if you end up needing a wheelchair, there needs to be enough clearance under the sink and around the toilet for the chair.

Let Daniels Design & Remodeling help with your universal design bathroom remodel.
All it takes is one fall to end up with an injury that lands you in a nursing home or another facility for the rest of your life. Don't risk your future. You can age in place safely, and the team at Daniels Design & Remodeling is here to help. Schedule your conversation with our team today.