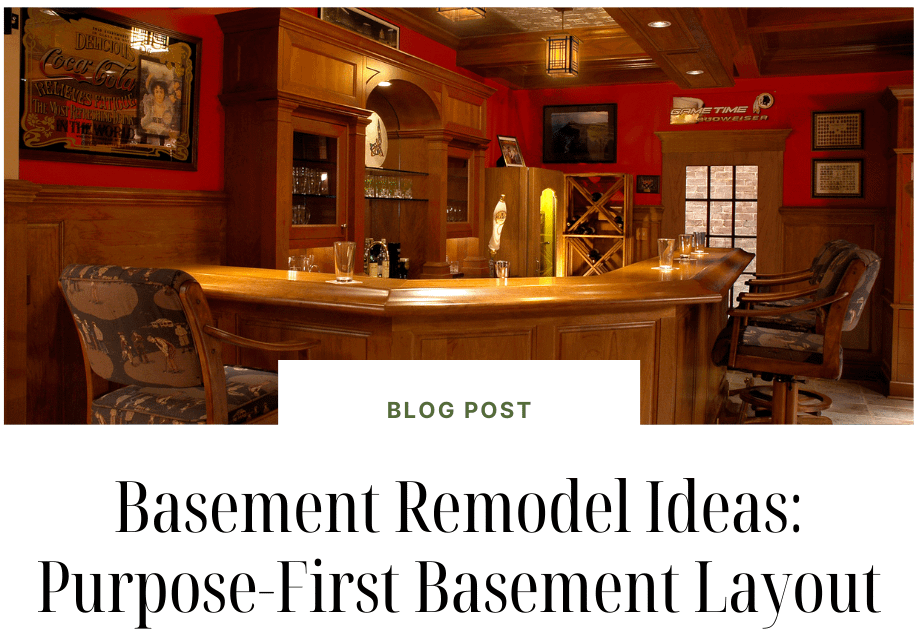 The true value of any home remodeling project is to add function, enjoyment, and value. When it comes to remodeling your basement, designing a layout that puts purpose first is the best way. By starting with the right basement layout design, you'll expand the amount of comfortable, functional space your family can enjoy and increase your return on investment.
What Is Basement Layout Design?
An early step in the basement remodeling process, a layout design conceptualizes the floorplan of your ideal basement. This design serves as a blueprint for the remodeling project and includes big-picture elements, such as new rooms and walls, as well as smaller but still important details like adding new electrical outlets.
At Daniels Design and Remodeling, we work with Northern Virginia homeowners to design the perfect basement for their needs now, while also accounting for value in the future. According to Zillow, most basement remodeling projects see an average of 70% return on investment. However, in especially competitive markets like those found in Fairfax County and much of Northern Virginia, a remodeled basement may increase the value of your home even more.
Basement Remodeling Ideas
Most basement remodeling projects can be divided into one of three categories:
Walk-out basement – Common in homes built on a slope, they have a separate entrance from the upstairs.
Standard lot basement – An underground space with only small windows near the ceiling for natural light.
Garden-level lot basement – Similar to a walk-out basement, but this may have an additional non-livable space underneath, such as a crawl space.
Based on the kind of basement you have certain basement remodeling designs might make more sense to meet your needs and goals. These popular basement remodeling concepts are possible with any basement type but may be better suited to a certain style.
Popular Basement Remodeling Concepts and Ideas
The Open Concept Basement
An open concept basement makes the most of the available space by treating the whole basement as one large room. This type of basement design creates plenty of space and is especially useful as a home theater, for entertaining a larger number of guests or giving young kids a lot of space to run around in.
It's also possible to divide an open concept basement with the clever placement of furniture and lighting fixtures. Because it isn't constrained by permanent walls, the open concept basement is a very versatile design for families.
Best for: Standard lot and garden-level lot basements
The Basement Apartment
Recoup your investment quickly by converting your basement into a short-term rental or rental space, where allowed. A basement bathroom addition is handy for most designs, but it can truly set your basement apartment apart on apps like Airbnb or VRBO or for long-term rental. Creating the ideal basement apartment comes down to taking all the elements of a home and condensing them into a single space. This can take careful planning and design, including adding an egress window to meet local and federal safety guidelines on adding a bedroom to your basement.
A well-designed basement apartment will include:
A separate entrance
A dedicated bedroom or space for a bed
A small kitchen or kitchenette
A private bathroom with a shower
Dividing walls where possible
Where spaces might be shared, such as the laundry room, look to add privacy walls to avoid infringing on your guest or renter's private space. You may also finish your basement apartment with a TV, storage, and furniture to make it cozier and more comfortable!
Best for: Walk-out and garden-level lot basements
Basement Gym Layout
Bring the workout home! We've worked on several home gyms in Northern Virginia, and we've noticed that the very best incorporate a design element you may not have thought of. Installing excellent lighting to mimic the atmosphere of a normal gym is especially important in basements that lack an abundance of natural light. It's also important to balance the need for ample workout space with other functions your basement might need to serve, such as a home office. There are clever ways, such as half-walls or barn-style sliding doors, to partially divide the space.
Best for: Standard lot basements
Start Your Basement Remodeling Planning Today
Our neighbors in Northern Virginia know that working with the right contractor makes all the difference in their basement remodeling projects. Since 1997, Daniels Design and Remodeling has helped families reshape their homes to meet their needs and inspire their passions.
Learn more about our award-winning design process and our service area. Let's get started. Schedule a conversation with Daniels Design and Remodeling today.