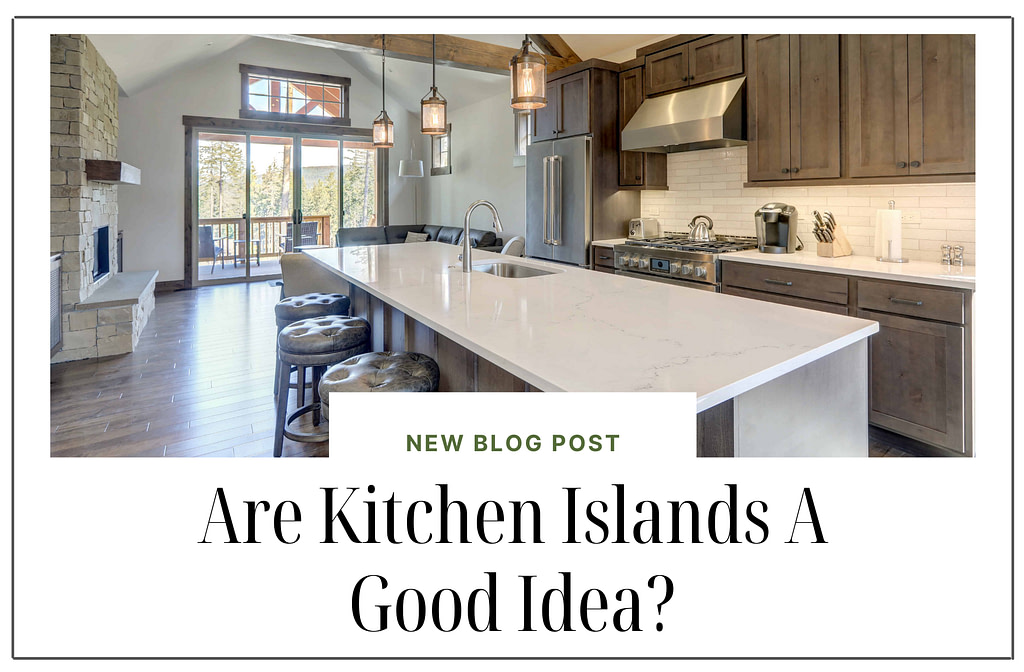 Today, kitchen islands are an almost ubiquitous component of kitchen designs and renovation projects. There are a number of benefits to incorporating a kitchen island as a part of your next home upgrade, but it's worth noting several drawbacks. Make sure this design element meets your needs before you make it a central part of your home.
What Is a Kitchen Island?
A kitchen island, sometimes referred to as a floating kitchen island, is usually a large permanent structure that mirrors the design aesthetics of your kitchen's cupboards and countertops. They are now featured in both modern and traditional kitchen designs with islands.
Kitchen Island Pros and Cons
Like any design component, including an island as a part of your kitchen remodel or renovation has both positives and negatives. For many, the perks of an island outweigh the drawbacks, but it's important to remember how much they can influence the day-to-day functioning of your home. As a leading northern Virginia kitchen renovation expert, we always pass along a few pros and cons.
The Good
More Workspace. If your existing kitchen lacks enough counter space for all your appliances, décor, and fixtures, let alone enough elbow room to prepare meals, an island greatly expands the amount of workable surface area to cook. This is especially handy if your family enjoys cooking together by creating multiple spaces for everyone to chop, dice, knead, and create memories as well as meals.
More Seating. In spaces with a lot of room and a lot of friends and family, having a spot for more guests to eat is very handy. Depending on your design, your island can serve as a second kitchen table or your primary spot to tuck in when it's only one or two of you eating. It also makes it easier to visit with others while someone prepares food, truly turning your kitchen into the hub of the home.
A Sink. If you're already lacking counter space, moving your sink to the island can open up a lot of options. In some kitchens, avid cooks will even add a small sink to make food preparation easier. Either way, having an island allows for a tremendous amount of flexibility as far as where to place sinks, dishwashers, and other appliances. You might even treat yourself to a dedicated wine cooler!
More Storage. With so many cooking appliances, gadgets, dishes, and accouterment in the kitchen these days, it's easy to run out of room. A kitchen island renovation expands your storage options to make organization easier and can even reduce clutter; if there's a place to stow that Instapot, you are much more likely to put it away between uses.
Home Value. Many families see a kitchen island as a vital part of their home search. If you're including an island addition to increase the property value before flipping a house, opt for the basics. According to a 2020 Remodeling Magazine study, a mid-level kitchen renovation sees a 77% return on investment. Keep the design as neutral as possible to make it as universally appealing as you can.
The Bad
Space. This is the biggest factor in the design decision. No matter how robust your kitchen renovation might be, there will probably be limits to how big your kitchen can be. Adding a kitchen island to a room where space is already at a premium can make it feel and look cramped and uncomfortable. As a general rule of thumb, you'll want at least 36" between your island and your existing countertops. Depending on the layout of the room, this might make the size of your new island of negligible utility in any case.
Visual Space. Any kitchen island, especially one that is too big for the room, quickly becomes the focal point of the space. If the design isn't effective, a kitchen island can add a lot of visual weight and make the room feel blocked or out of proportion.
Clutter. This one is a serious consideration for those who like things tidy. Kitchen islands tend to become a magnet for clutter in the home, from keys to purses and dirty dishes to the daily mail. Sometimes, adding more counter space simply means more space to fill with stuff. Understanding how your home functions and designating places for things to go is key to avoid the eyesore of stuff accumulating on your island countertop.
Traffic Flow. This might not seem like an important consideration, but it is. A poorly designed kitchen island isn't helpful so much as it is in the way. Think about how you move in and out of the kitchen, how you'll cook in your renovated kitchen, and where frequently used items will be stored. Without getting this right, you'll find yourself having to walk around the island constantly to grab different utensils, plug things in, or put cookware away.
Is a Kitchen Island a Good Idea for Your Home?
If you're considering adding a kitchen island, be sure to make it fit your unique needs. Match priorities like additional kitchen storage space or counter space with the dimensions of your kitchen remodel plans. It's also worth looking at how the island will fit into your modern, traditional, or overall design theme.
Kitchen Renovation Design with Daniels Design and Remodeling
Want to see how modern kitchen design ideas with islands might fit into your renovation plans? Our in-house designers can show you how all the pieces fit together with three custom kitchen renovation concepts for your consideration. Since 1997, we've been working with our neighbors in Fairfax, Virginia, and beyond to bring northern Virginia home renovation projects to life.
Schedule a conversation to get your kitchen renovation project started today.