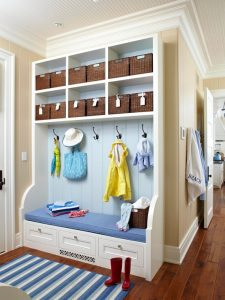 The space your family uses the most when they enter or exit the house is probably not your formal front door. It might be off the garage, a side door or a kitchen door. People are paying more and more attention to their entryway spaces for several reasons. This is the first place you see upon arriving home, so you want it to be as welcoming as possible. This is also the place where everyone drops their gear, so it can quickly become a tangled mess off shoes, backpacks, coats and mail. We have some amazing ideas to get the most out of your entryway as possible.
Create A Designated Room
There's nothing like the luxury of having a dedicated mudroom that is beautiful, organized and functional. If you don't have a mudroom, foyer or entry area, why not create one? Carve space out of a little used room, renovate a laundry room, or section off a portion of the garage. Daniels Design and Remodeling also often does mud room additions, creating extra space where none existed before.
Functional Organization
Create nooks, shelves and bins that accommodate your family's storage needs. A wall of built in cubbies along with shelves for shoes work well. If you have several children into sports, add a row of lockers to keep sports gear out of sight in a stylish way. A long bench is perfect for putting on boots and shoes, and a hinged to creates wonderful extra storage. A coat hook for each family member is a must, and it's also a great spot to create a mail station where you sort, organize and recycle mail before it makes it any further into the house.
Fun Additions
There are a few design trends today that can take your new entryway to the next level. For example, heated floors are all the rage in the bathroom, but they are fantastic for mud rooms too. They help melt the snow in the winter, dry shoes and boots during rainy weather and keep your feet nice and toasty as you enter your home,
The great thing about your entry way is that is will be custom design for exactly what your family needs. When each member of the household has their own space to put their stuff as they enter and exit the home, life is a lot more pleasant and organized. Talk to Daniels Design and Remodeling today to get started on yours!