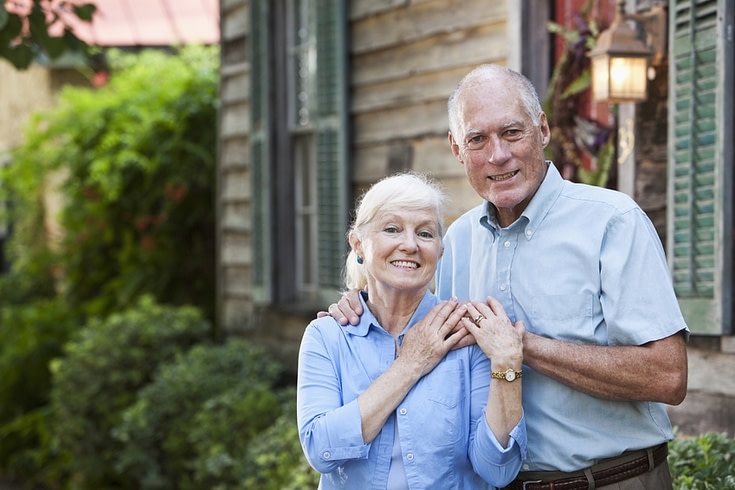 There's something special about continuing to enjoy the home that holds a lifetime of memories as we age. Hold onto years of entertaining, raising your family and a close-knit community with universal home design built into your remodeling project.
The biggest hurdle of aging in place is ensuring the home can withstand your changing lifestyle and the potential physical limitations that lie ahead. Consider a universal design or aging-in-place remodel to help you grow old in your current home safely and comfortably.
Universal Design by Definition
Universal Design creates accessible spaces for all people, and it is quickly becoming a popular remodeling choice. This design philosophy provides an inclusive baseline that appeals to older adults and individuals with limited mobility or special needs.
Universal design has seven basic principles:
Equitable use. Universal design homes must be useful to people with differing ranges of ability.
Flexibility in use. The design accommodates a wide range of individual preferences and abilities.
Simple and intuitive use. Elements and use of the design are easy to understand regardless of the user's experience, language skills, concentration level or knowledge.
Perceptible information. The design communicates necessary information to the user regardless of the user's sensory abilities or any ambient conditions.
Tolerance for error. Home design minimizes hazards or adverse consequences of accidental actions.
Low physical effort. Elements of the home can be used efficiently without fatigue.
Size and space for approach and use. Appropriate space is provided to approach, reach and use things, regardless of mobility, posture, body size or use of bulky mobility aids like wheelchairs or walkers.
What Is Aging in Place?
Aging in place refers to growing old in your home, rather than moving to assisted living or a senior-specific community. While a move might be the right choice for some homeowners, elderly home design modifications help those who want to remain where they are. Aging in place allows individuals to stay in the home and the community they love.
Is Universal Accessibility Design Right for My Home?
Daniels Design & Remodeling can seamlessly incorporate universal design into remodeling projects. In the exact same way that we empower our clients to choose their own products and materials, you can also customize your remodel to optimize your current and future needs. We are a Universal Design Certified Professional (UDCP) home remodeling company, which requires extensive training and industry knowledge.
Universal design also allows you to:
Accommodate family members of all shapes, sizes and abilities.
Age in place more comfortably, regardless of mobility.
Adjust to injuries or new changes in ability level.
Maximize return on investment when you choose to sell.
Expand the pool of potential buyers for your home if you wish to move in the future.
Aging in Place Home Modifications: The Ideal Senior-Friendly Home Design
Bringing universal design into your Northern Virginia remodeling project is easy, and its elements are virtually invisible because they are integrated into the overall design. We'll help you choose the right universal aging-in-place solutions for your family.
Universal Design Bathroom
According to an AARP Age-Friendly Community survey, 42 percent of older homeowners agree that renovations for senior living bathroom design are imperative. Prioritize upgrades that reduce the risk of personal injury. A walk-in shower remodel for elderly homeowners who can't step over the tub lip can help prevent falls. If you like to soak, consider a walk-in bath remodel for seniors. Wall-mounted handles give stability assistance to those who need it.
The best bathroom design for seniors should make everyday tasks easier. Elements like supplementary lighting and touchless plumbing fixtures are subtle yet impactful ways to create a safer, more accessible space. A renovation is an excellent opportunity to upgrade cosmetic features, including tile and paint, for a more modern aesthetic appeal.
Universal Design Kitchen
If you're looking to stay in your home after retirement and boost its value simultaneously, the kitchen is a good place to start. Transforming kitchen layouts to accommodate wheelchairs or feature wider walking spaces may be a strong personal investment, but even minor updates have a positive impact on your sense of security and well-being. Aging-in-place kitchen design may also include lowering storage spaces, adding easy-grab drawer and cabinet handles and installing non-slip flooring.
Universal Design Bedroom
Stairs contribute to more than 36 million falls reported among seniors in the US annually. While only about 5.5% of falls are on stairs, they pose an increased risk of fracture for seniors. Remodeling to add a ground-floor bedroom is a failsafe method to reduce fall risks and further your home's value.
Depending on your needs, you may choose various senior-friendly features, like ramps and wider doorways, for easier mobility and everyday access. If you're unhappy with the current square footage of your home, a master suite addition could eliminate many barriers to aging in place safely.
Other Universal Design Features Throughout the Home
Accessibility shouldn't be limited to a few rooms. We prioritize mobility throughout the home, recommending features like low-pile carpet to accommodate a wheelchair user in the living room or chest-height storage to avoid bending over in the laundry room. Universal design can be applied throughout your home as seamlessly as in the bedroom, bathroom and kitchen.
Want more information on aging-in-place design? Check out our aging-in-place renovation podcast.
Trust Your Home to a Certified Universal Design Accessibility and Aging in Place Contractor
Aging in place home design means you can live in your home comfortably as long as possible, and Daniels Design and Remodeling has wonderful and creative ideas to help make that goal a reality. We work with you, get to know your family's exact needs and create a unique design based on that. It is a full collaboration that you are a part of from start to finish. Schedule a conversation to start planning universal design elements for your home.