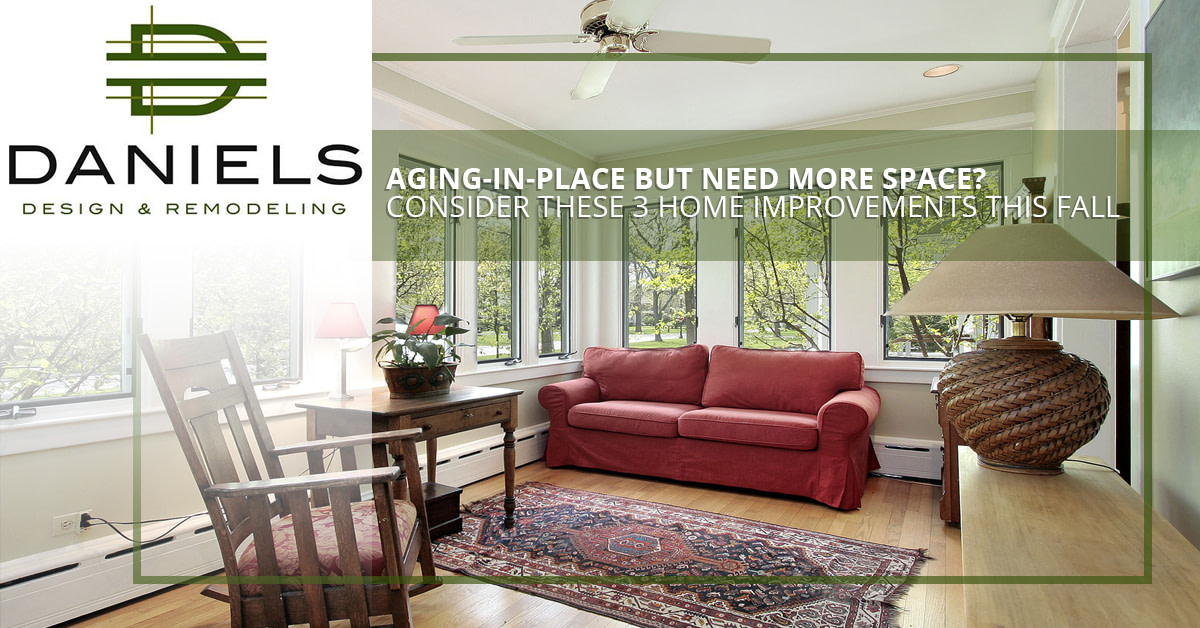 Baby Boomers often relocate after retirement, frequently moving to high-rise condominiums down south or senior communities with fewer home maintenance responsibilities. Even so, there's something special about retiring in the home that holds years — even decades — of positive memories, sentiments and hard work.
The biggest hurdle of aging in place is ensuring the home can withstand your changing lifestyle and the potential physical limitations that lie ahead. Many older homeowners renovate for comfort and safety with projects, such as walk-in showers, automated lighting or security systems. Updating your current home may be important for you, but could also act as a major selling point for a maximum return on your investment in the future.
Rather than search for an Orlando condo or a single-story home in a senior community in Phoenix for your retirement move, consider the following home improvement projects designed to help you age in place both securely and stylishly.
Kitchens and Bathrooms
If you're looking to stay in your home after retirement and boost its value simultaneously, start with updating your kitchen and bathrooms. Transforming kitchen and bath layouts to accommodate wheelchairs or feature wider walking spaces may be a strong personal investment, but even minor updates could have a positive impact on your sense of security and wellbeing. According to an AARP Age-Friendly Community survey, 42 percent of older homeowners agree that bathroom renovations are imperative. Prioritize upgrades, like walk-in showers, supplementary lighting and touchless plumbing fixtures, that help make everyday tasks easier. Because you're already undergoing a renovation, you may also choose to upgrade cosmetic features, including tile and paint, for a more modern aesthetic appeal. As of last year, the most popular selling point for homes in Alexandria and across the state of Virginia was granite countertops, which is something to consider if you plan to modernize for resale value.
Outdoor Living Spaces 
According to a Trulia survey, 33 percent of homeowners today feel their current home is too small. Spending time outdoors to escape those feelings of claustrophobia is common. But, with the weather cooling off and the brisk fall season inching closer, relaxing on a lounge chair in an uncovered backyard is less appealing. Semi-enclosed or fully enclosed "outdoor" living spaces bridge the gap between cooler weather and the need to stretch your legs. Deck or sunroom additions, for instance, boost livable square footage, particularly in northern states, like Virginia, where winters are cool and an open exterior patio would only offer limited seasonal use. Depending on where you live, these features can increase the value of your home for the long run.
The stairs can be a common source of accidents for older homeowners. Instead of trekking up and down to the second story every morning and night, consider adding a new master suite to the first floor of your home. An additional bedroom is a failsafe method to further your home's value. More importantly, sleeping on the first floor is a crucial precaution for older Americans who prefer to stay put in their two-story abodes. Depending on your needs, you may choose various senior-friendly features, like ramps and wider doorways, for easier mobility and everyday access. Again, if you're unhappy with the current square footage of your home, a master suite addition could be a cherished haven that eliminates some of the most common homeowner qualms.
Living at home after the age of 65 is inevitably easier with updated features that keep a senior-living routine in mind. Aside from recognizable safety features, extra square footage stemming from porches, decks or home additions improve both your satisfaction and, possibly, your home's value. To jumpstart your age-in-place remodel in Northern Virginia this fall, contact the renovation experts at Daniels Design & Remodeling today by scheduling a conversation online or calling us at 703-239-2700.