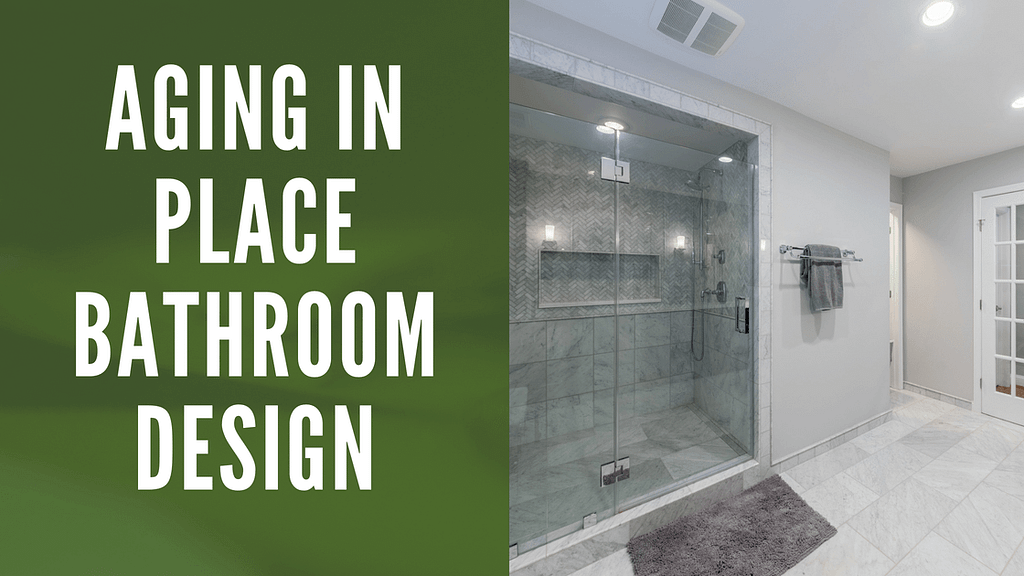 For most individuals, a house is more than just home – it's their family's gathering place, the center of treasured memories and where they're most comfortable. As we age, we prioritize living at home independently, safely and comfortably.
At Daniels Design & Remodeling, we strive to help seniors and those with limited mobility maintain their independence through accessibility-focused home renovations. One of the most important tasks? Finding an age-in-place bathroom design that is functional and aesthetically pleasing.
Bathroom Remodels for the Elderly in Northern Virginia
As a nation, we're getting older. According to the 2020 US census, there are over 70 million Baby Boomers. In 2030, over 76 million Americans will be over the age of 65. This demographic shift will also push home remodels to incorporate universal design elements to keep seniors safe and independent.
Northern Virginia mirrors the nation in terms of its population. By 2030, 15% of the region's population will be over the age of 65. Alexandria and Fairfax Counties have the highest percentages of their population over 65 at 9.1% and 9.5%, respectively.
The elderly population in northern Virginia will grow by 76% between 2010 and 2030. Residents should anticipate the structural and design changes required to live at home longer. In many households, that process starts with a bathroom remodel for aging in place safely.
Four Bathroom Remodeling Ideas for Seniors
Bathrooms are statistically one of the most dangerous places in the home for older people. An aging-in-place bathroom remodel is the best investment in extending a senior's independence and adapting a home for changing needs.
Here are four important considerations that should guide bathroom remodeling for seniors:
Safety and Convenience: For seniors, convenience is a safety issue. Creating space to move freely, providing places to find support and reducing sharp edges are just a few of a designer's priorities. From there, it's possible to begin making more specific decisions about which senior bathroom remodel ideas you wish to include. We can take your senior bathroom ideas and build safety into the look and feel of your new space.
Location: For multi-story homes, location is often the most important factor. Access to a bathroom on the floor where seniors spend most of their time can reduce the fall risk. Creating a first-floor bathroom may require more work and could mean losing square footage from an existing room, but it's not something to dismiss out of hand. We can help you choose the best space to create or remodel a bathroom for elderly accessibility.
Bathtub and Shower Accessibility: Depending on space and preference, installing a more accessible shower or tub will allow for easy access while reducing the risk of falls. Step-in designs are the ideal bathtub renovations for seniors who need to soak for daily comfort (or just like to indulge). Curbless showers provide ample space and can include a bench or seat, but they take the option to soak in a bath out of the equation. All age-in-place shower designs should include removable and adjustable shower heads that match the space's overall aesthetic.
Vanities and Countertops: When it comes to accessibility in bathrooms for seniors, even the vanity can provide opportunities to use design to enhance function. Incorporate vanity design and countertop dimensions as a part of your project. Those who use a wheelchair can maximize the value of recessed cupboard space below the countertop for accessible storage. That usually necessitates lowering the countertop or making it shallower so users can easily reach items against the wall. The mirror and backsplash should also be lowered so occupants can see their reflection while either standing or using a wheelchair. Bathroom renovations for elderly homeowners should consider all possibilities for a senior's mobility in the years ahead.
We Build Senior Independence into Every Project
The best way to ensure more enjoyable years at home is to adapt your space to suit changing needs. Let the expert designers from Daniels Design & Remodeling bring our years of expertise and insight to create the right bathroom remodels for seniors. We can bring the safety-oriented details of your bathroom remodel to other parts of your home as a part of our complete home remodel and renovation services. Even for younger families, incorporating age-in-place bathroom remodeling elements now can reduce expenses and inconvenience in the years ahead.
Reimagining Your Home with Daniels Design & Remodeling
We've developed a three-step remodeling process to understand your needs and define what makes each project unique. We start with a feasibility study to learn more about your space and your goals, as well as develop several concepts for your consideration. We work with you to choose a design you'll love and then bring that design to life. Daniels Design and Remodeling includes a team of expert craftsmen who can create simply stunning spaces.
From initial planning to the final touches, let us bring luxury and elegance to your golden years. Invest in senior independence with a design-first approach; start the conversation with us today!