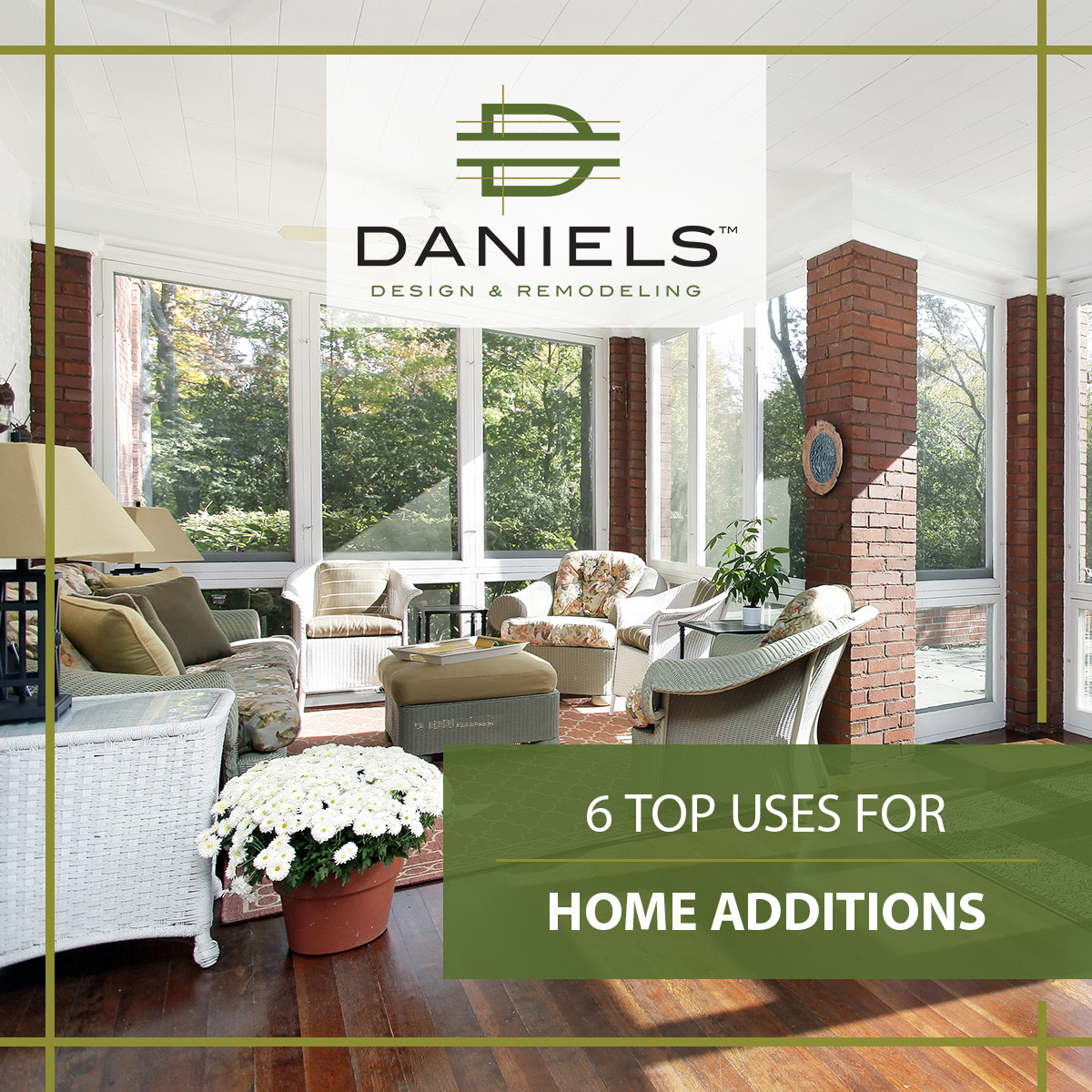 If you've lived in your home long enough, there is usually something that crops up that you want redesigned or tweaked to suit your needs, whether you need more space in your kitchen or you want to add a certain feature to a room in your home to make it more functional. 
Daniels Design & Remodeling offers the best home additions for your Northern Virginia home. Our team specializes in kitchen, bathroom, and living space remodels and additions. We have architects, craftsmen, production specialists, carpenters, masons, and more on our staff ready to lend their talents to create the home addition of your dreams. Below, we'll take a look at the top six home additions we see here in Northern Virginia, and contact us to schedule a conversation today!
6 TOP USES FOR YOUR NORTHERN VIRGINIA HOME ADDITION
Music Studio
Someone once said, "Sometimes music is the only medicine the heart and soul need." There's no doubt that music speaks to us in a way that nothing else can, and it can improve our mood, bring back memories, and get our creative juices flowing. Many people play musical instruments and want a dedicated space for them. By investing in a home addition for your musical talents, you'll feel freer to dive in and immerse yourself. If they are adding a home addition, many people request for that room to be soundproof so that they don't disturb the rest of the family (or the neighbors) while playing. You can also add in acoustics so that the sound does sound better. From building holding racks on the walls to reinforcing the floors, our design team at Daniels Design & Remodeling can handle it all. Call to schedule a conversation today!
Gym
With the closing of gyms due to COVID-19, many people saw the need and the convenience of having their own home gym. There are many benefits to having a dedicated space to work out, such as being able to work out when it's best for your schedule, saving on gas and time driving to and fro, and saving on a gym membership. Plus, many people are more apt to work out when they can literally roll out of bed and work out in their pajamas. A home addition is a great way to design your gym exactly how you want it, from having a dedicated space for yoga to having a tall ceiling for a pull up bar, our dedicated design team has got your needs covered. Reach out for a home remodeling or home addition question and answer session today!
Reading Space
Books have the ability to take you to whole other worlds, visit times long ago or in the future, and teach you lessons that you need to hear. Having a dedicated space where you can enjoy these precious moments is important. Whether you are looking to create a full-blown library with dedicated bookshelves, or you just want a reading nook added to an existing room that boasts a comfortable recliner and a reading lamp, our award-winning design team can help you create the ideal space and setting where your dreams can take off. We can also create wonderful reading areas for your kids. To begin, simply contact our Northern Virginia remodeling company to schedule a room addition conversation today!
Guest Room
Guest rooms are super important to have for when your friends or loved ones come to visit. Not only do your guests feel more comfortable in a dedicated space and more at home like they aren't disrupting your life, but you can continue your normal routine uninterrupted while spending quality time with your loved ones. You can turn your basement into an additional living space, add in a room over your garage, or invest in a room addition, either upper story or off your existing ground level home. Many people also convert their garages that they don't use all that often into additional living spaces as well, which is a great option for those with aging parents who may be moving in with you. Daniels Design & Remodeling can help you decide where to add your additional living space. Call to schedule a conversation today!
Apartment
A bit different than a guest room, an apartment space is usually completely self-contained living quarters that boasts a bathroom and a kitchen, as well as a bedroom. Many people like to invest in a room addition by either taking an existing space and blowing it out to expand it, or by adding a whole separate area that they then can rent out and add additional income. Apartments are also great for when your mother-in-law comes and wants her own space for an extended stay. Whether you are remodeling or adding on, there are many layouts to choose from that your prospective guests or family members will love. Our design team can help you choose the layout that will be perfect for your needs and then get to work on the home addition remodeling process. Reach out today!
Indoor/Outdoor Living Space
Many people are taking advantage of creating outdoor living spaces so that they can enjoy nature without having to travel a long distance. California rooms are indoor/outdoor living spaces that usually have a tall ceiling and long windows that let in the light. Many California rooms also have a section that you can fully open up to let in the air and sunshine more. These spaces are great in Northern Virginia if you live along a river, ocean, lake, or other waterfront so you can enjoy the relaxing sound of water and sea spray too. Enclosed porches are another great way to bring Mother Nature indoors. Contact Daniels Design & Remodeling in Northern Virginia to get started today!
CHOOSE DANIELS DESIGN & REMODELING FOR YOUR HOME ADDITION TODAY
As you can see, the sky's the limit when it comes to adding home additions to your living space. Whether you are looking to bring Mother Nature indoors or you want to expand your indoor space to make it more functional, Daniels Design & Remodeling has been helping homeowners since 1997 make their homes suit their needs. Our expert team has a tried-and-true method to deliver you the highest-quality home remodeling services with the best possible results.
Our simple three step remodeling process consists of:
Feasibility study. Here we will discover your needs, see your space, and propose up to three concepts for your space.
Choose your design. You will choose which design you absolutely love, and we'll get to work making it happen.
Build your project. Our team will work tirelessly, bringing together all of the moving parts to create the living space of your dreams.
Having your home be your castle is super important to your comfort level. Our Northern Virginia remodeling company offers many home renovation services, including kitchen and bathroom remodeling, home additions, living spaces, and porches and patios. We understand that you work hard, and at the end of a long day, you want to come home to easy. Our design team spends hours dedicated to making your life easier with award-winning designs you'll love. From the home visit to the final walkthrough, you are our top priority, and we guarantee 100% customer satisfaction. Call to schedule a conversation today!