5 Tips for Choosing the Right Cabinets for Your Kitchen

Kitchen remodeling is no easy task. A lot of decisions need to be made keeping in mind various factors and endless choices. From the right material for the floors, to the right faucet models to the most suitable countertops, everything needs to be perfect. A perfect kitchen is one that not only offers optimum functionality but also great visual appeal, and cabinetry is a major aspect of that. Cabinets are most likely the first thing that notice when you enter the kitchen, and they need to make all the right impressions. Following are five tips to keep in mind when choosing cabinets:
1.     Make them Coherent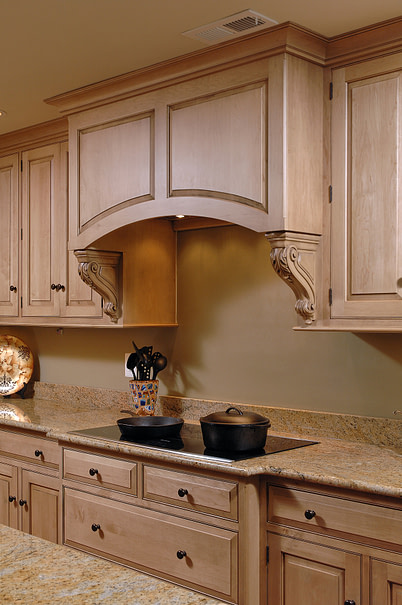 This might be very obvious, however, it is one mistake that homeowners make again and again. Just because you like a specific design or color doesn't mean that it will work for your kitchen too. Make sure the cabinets of your choice meet the overall look and theme of your kitchen. It is best to choose the cabinets before starting off the kitchen remodeling project. This way you will better be able to develop a cohesive look without compromising on your own preferences. If you are simply changing the kitchen cabinets then look for something that would contrast well with your current kitchen flooring, color, counter tops etc.
2.     Keep Functionality in Mind
Glass cabinet doors might look great in magazines, but they don't look too good when you have a stack of misaligned jars behind them. Unless you have an OCD, opt for frosted glass or some other material to hide away the clutter. Also don't use hook or knobs for bottom cabinets as they can get stuck in your clothes very easily. Handles without any edges poking out are comparatively functional.
3.     Resale Value
Unless you don't have any plans of ever selling the house, you may want to consider the resale value of your investment before choosing a specific style. Cabinetry can be quite expensive, and if you are planning on selling the house at a given point, you should consider using more natural elements like wood or MDF cabinets in non-experimental shades.
4.     Quality of the Products
Once you have the design in mind, you need to focus on the quality of the products. Solid wood is the most popular choice for cabinetry. You can opt for maple, cherry, pecan or birch or go for something more exotic like mahogany, walnut or zebra wood. Kitchen cabinets in metal and High Pressure Laminate are also quite popular. Make sure you use high quality hardware and finishes too to ensure sustainability.
5.     Door Mounting Style
Door mounting style is an important consideration that is generally overlooked. The most common door mounting style is overlay, in this style the door lays over the cabinet case. There are other mounting style options available too like regular overlay, inset doors, and full overlay where the mounting fits doors close together.
Choosing kitchen cabinets is not so difficult if you know exactly what you are looking for and what is best suitable based on your kitchen remodeling project. If you are hiring a contractor, then make sure you keep a constant check to ensure your vision and requirements are met properly.