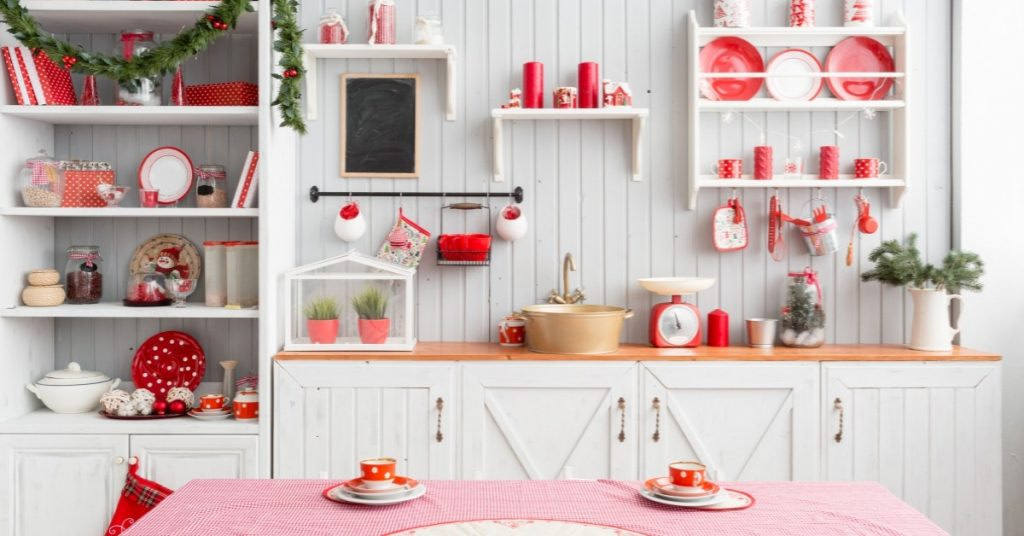 With the holidays fast approaching, you may be preparing for a house full of guests. If that's the case, you may also be fretting about your home and some home improvement projects you want to get done. While you may be thinking about a kitchen or bathroom renovation project, you just don't have the time to complete one before your guests arrive. So what can you do in order to make your home perfect for your guests and add value and functionality to your living space?
Daniels Design & Remodeling is Northern Virginia's premier home renovation company. From kitchen and bathroom remodels to outdoor living space upgrades and patio installations, our home remodeling services run the gamut. In essence, whatever you envision for your home, we can help turn that vision into a reality. Our expertise spans over 25 years, and we can complete your home remodeling project on-time and on-budget. Below, we'll offer up five quick home remodeling projects you can do before the holidays hit and your guests arrive. Contact our home remodeling team to get started today!
5 QUICK HOME REMODELING PROJECTS YOU CAN DO BEFORE THE HOLIDAYS
Your Entryway
The first place your guests will see when they arrive is your entryway. Many people don't think about their entryway as a place to remodel and make their own, which is why so many are dull and drab. Our home remodeling experts recommend that you spruce up your entryway to make the best first impression, not just for your guests, but also for anyone who comes to your home. Some great ideas include adding in a personal picture gallery that showcases your family, your vacations, or one of your passions, such as home decor. Having a place to sit to put on and take off your shoes most definitely earns you brownie points with your guests. A nice bench seat perhaps with an additional section to place your keys usually fits well into most people's home decor.
Refinish Your Kitchen Cabinets
Refinishing your kitchen cabinets is an easy home improvement project you can do that not only modernizes your kitchen but also adds value to your home. Refinishing is simply changing the color or the finish of your cabinets. You can add some pep and zeal to your cabinets in this easy way that will spruce up your entire kitchen. There are many options for refinishing your cabinets, such as glazing, glossing, stressing, or antiquing. Plus, you can choose from a whole rainbow of colors. If you want to do a bit more than just adding a coat of paint, you can change out your kitchen cabinet hardware and trim as well. This is a great idea if your kitchen cabinets are over 10 years old.
Upgrade Your Breakfast Nook
Similar to the entryway, any nook in your home tends to be overlooked, especially if it's not used all that often, or it's in a seldom-used room. Your breakfast nook is no exception. If your chairs are uncomfortable and there's little light, the entire area can seem downright dreary. Add in a bowl full of fruit on the table to make it more enticing, and bring in a plant to add in both greenery and cheer. If there is little light add in a pendant light above the table in order to make it more inviting. You can give your breakfast nook a clean look as well by having your seating area be white and accented with pillows or vases. The sky's the limit for breakfast nooks, and if you need help or ideas, call our home remodeling company, Daniels Design & Remodeling in Northern Virginia, today.
Focus on the Fire
For hundreds of years, the hearth has been the center of the home mainly because it was the primary source of heat and light. Since the advent of modern central heating and electricity for lighting, this tradition has fallen by the wayside. However, you can still make your fireplace the focal point of your home and a place for family gatherings. You can add in a TV above the fireplace that the family can enjoy a movie around. You can install a floating mantel to give your home a modern flair. This is also a great place to hang your Christmas stockings and display your family photos. If you are looking for a custom breakfast nook that will be a true one-of-a-kind place, give our home renovation company a call. Our expert craftsmen have over a quarter century of experience in bringing your living spaces to life. Call today.
Carve Out a Recreation Room
Due to the weather during the holidays, most families and friends spend their time indoors, visiting, relaxing, and catching up. However, if you have kids, keeping them quiet can be a problem with all of their pent-up energy. By adding in a fun recreational room, perhaps in your basement, you will have a designated area for fun where the kids can go, be loud, and entertain themselves while the adults visit. Add in a Foosball and Air Hockey tables, a pool table, a dedicated TV with perhaps a video game station, as well as a small table for board games. In addition, if you want to keep the kids out of your hair even longer, add in a bar area with a microwave and a mini-fridge so the kids can have their drinks and snacks handy.
CHOOSE DANIELS DESIGN & REMODELING IN NORTHERN VIRGINIA TODAY
Daniels Design & Remodeling in Northern Virginia offers a plethora of choices for homeowners in Northern Virginia. From kitchen and bath remodels to outdoor living space and porches and patios, our expert renovation team is ready to tackle any task. If you are on a time crunch, such as for holiday guests, we do our very best to accommodate your schedule.We stay on-time and on-budget, not coming back and asking for more time or money.
Our home remodeling process entails three easy steps that are simple and will have your home improvement project done well before your holiday guests arrive. First, we start with a feasibility study. This is where we'll come to your home and gather your thoughts and ideas about your home improvement project. We'll conduct thorough measurements and survey your home to see if there are any limitations we need to be aware of. Then, our expert designers will create three conceptual designs for your home remodeling project.
Once you make a selection, we'll get to work, selecting the materials for your home project and engaging in all facets of the pre-construction phase. We'll gather all of the necessary permits, and then we'll begin the build where you can watch your home improvement project come to life. This is the fun part of the home remodeling and design project. Once complete, we'll perform a final walkthrough in case we missed any details. We offer a two-year warranty on our work should something crop up after we have completed your home remodel.
Our team is passionate about helping Northern Virginia homeowners turn their home into the perfect place to live for them, offering everything they will need to be comfortable. Our home renovations are completely customized to your individual needs and tastes. If you are looking to age in place or looking for a universal design, our top remodeling experts can ensure your criteria are met. When it comes to superb craftsmanship and quality, Daniels Design & Remodeling can't be beat. Our family-owned company treats all of our customers as we want to be treated. When it comes to value added, we ensure your customer experience is excellent every step of the way. If you need help with your quick holiday project or any other home renovation need, such as a kitchen, bathroom, or living space addition, call our home addition contractor today!