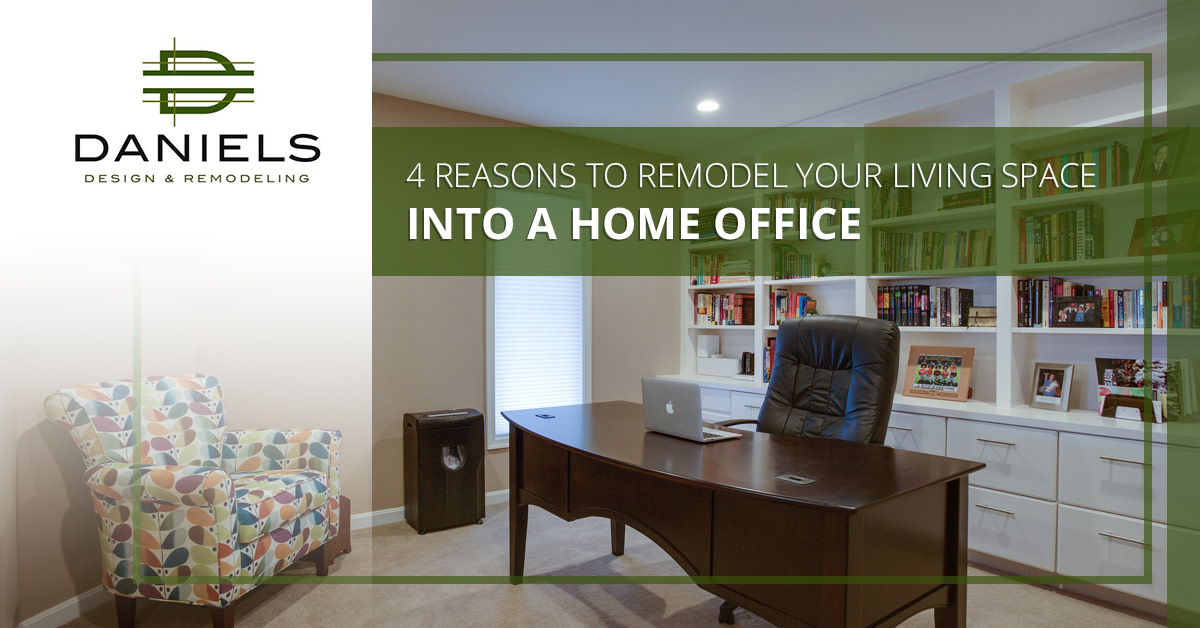 Many of us have living space that we are not using. You know what I'm talking about: those corners where an old chair is sitting or the place where a virtually-empty bookshelf is forlorn. These are areas that could be utilized and made functional for much-needed spaces you need, such as a home office.
Daniels Design & Remodeling is your choice for living room remodels, home addition, bathroom renovations, and kitchen remodeling. Based in Fairfax, we serve all of Northern Virginia with the best home remodeling services. Our top-rated designers, master craftsmen, architects, and engineers can't wait to help you turn your unused space into a masterpiece. Below, we'll take a look at some of the reasons to remodel your living space into a home office. Contact our home design company for a consultation today!
Since COVID-19 thrust remote work upon millions of Americans, the home office has become a necessity rather than a luxury. Those who like working from home and choose to do so after the pandemic should have a dedicated space where they can work from. This will not only increase your productivity, but you'll be more comfortable as well. With Daniels Design & Remodeling, we can help you create your perfect home office.
Trust us when we say that you will enjoy having a mini-fridge for ice cold beverages on a warm summer day next to your desk, a bookcase where you can stack all of your work documents, and cubby holes where you can hide your headset, calculator, work planner, pens, and more. Having everything at your fingertips in your home office setup can make the difference in your experience. Let our team show you how by calling us today.

It's super easy to let papers pile up on your desk, along with empty soda cans and cups, your kids' artwork, your notes about clients, and even your sunglasses and car keys from your latest errands. If you don't have a dedicated home office setup, you could easily become frustrated and lose important items and information. By investing in a home office remodeling service by Daniels Design & Remodeling, you'll have the space you need to ensure your important documents don't get coffee spilled on them, accidentally thrown in the trash, or eaten by the dog.

One of the biggest problems people have had adjusting to working from home is separating work from life. Admittedly, this is very hard to do, especially if you are a work-a-holic. However, by investing in a home office remodel for your Fairfax home, you'll be better able to compartmentalize work and shut it off mentally when you need to. When you are working from the kitchen table, on the sofa, or in bed, you'll have a difficult time differentiating the two. If you have a separate room in your home for your office, this is ideal. When you are finished working, you can shut the door and truly not have to think about work until you step into your office once again.
If you have kids and dogs, you can have a very noisy home. Between the dogs barking at passers by and the kids playing all their games, finding a bit of solitude and repose can be challenging. With a home office setup, you can use it to double as a retreat where you can go, shut the door, and read a couple of chapters in a novel. With a comfortable reclining chair, you can also use your home office as a place to take a quick nap away from the hustle and bustle. Daniels Design & Remodeling can help you carve a great place of solace with our home office remodeling services. Call us to get started today!
CHOOSE OUR HOME OFFICE CONTRACTING SERVICES TODAY
Daniels Design & Remodeling loves creating useful spaces for Fairfax homeowners. We understand that being comfortable in your own home is of paramount importance, and after a long week, the last thing you want is to be frustrated by your lack of functional space in your home. With our home office remodeling services, as well as our top-rated kitchen and bathroom design services, we can help you have all of the space you need.
We've developed a very simple three-step home remodeling process that ensures you get the best possible design. We begin with our feasibility study where we meet with you to discover your goals for your home office or other home remodeling project. We'll take a look at your space, measure, and then come up with three design concepts based on your goals for you to choose from. You'll choose your design, sign the contract, and we'll be on our way to creating the space of your dreams.
While there are many steps in the home remodeling process that have to be completed once you choose a design, we handle everything from here, including permitting, inspections, and the ordering of the materials. All you have to do is sit back and relax while we do the work. Once completed, we'll do a final walkthrough to ensure you are 100% satisfied with your home remodeling project. All of our craftsmanship comes with a two-year warranty.
If you are interested in a home office remodel or another one of our remodeling services for your Northern Virginia home, schedule a conversation today!