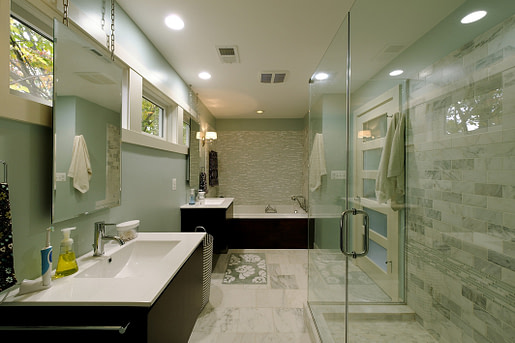 A master bathroom renovation is a project that pays off in so many ways. You get a brand new space to enjoy your daily routine, energy savings and an increase resale value for your home. When it's time to renovate the bath, there are a few must haves available that you won't want to miss.
Entire Walls of Cabinetry
In 2016, there is no such thing as too much storage space. Homeowners can take advantage of vertical wall space with floor to ceiling cabinets. Glass fronted cabinets combined with open shelving lightens up the space and offers plenty of room for the essentials. Master bathroom storage units can be customized to match the decor of your home and look like a piece of furniture, or like built-ins. You can also install custom cupboards for jewelry or lingerie.
Old World Style
Installing tile inspired by Mediterranean countries like Spain, Morocco and Portugal adds old world appeal to your master bathroom renovation. You can use it in the shower, or as an accent anywhere in the room. It's a timeless look that combines old world style with modern materials like metallic or terracotta tile.
Universal Design
It's always a good idea to think ahead, and including universal design in your master bathroom renovation is a very smart choice. These include elements such as curbless showers, side-mount faucets, and comfort height toilets and vanities. Floating vanities are another great choice because the height can be adjusted and there is room underneath to accommodate a wheelchair. Using universal design ensures the homeowner can age in place and makes your master bath appear larger. An ADA compliant home also increases its resale value.
Luxury Showers
In the master bath, this is the place to go all out. Create your own in-home spa by installing body sprays, jets and rain shower heads. Integrate speakers and a bluetooth connection to enjoy your favorite playlists in the shower. Choose beautiful tile that speaks to your soul, and make the start of every day a joy in your new master bath.
These are just a few of today's must haves for master baths. Talk to Daniel's Design and Remodeling about other great elements you can incorporate into your master bathroom renovation.